Exploring World Geography
Complete High School World Geography Curriculum
Are you looking for a world geography curriculum for your high school student that is complete and easy to use? Exploring World Geography is a one-year course that is centered in God's Word and equips your student to better understand our world and his or her place in it.
Buy Now
Who Can Use It
Author Ray Notgrass designed the curriculum for students to use successfully anytime in high school--9th grade, 10th grade, 11th grade, or 12th grade. It combines the flexibility and richness of a literature-based unit study approach with the simplicity of a textbook-based approach.
Daily lessons guide your student on a fascinating journey across our planet, focusing on how people interact with the physical world around them. With the lessons already planned, your student can use the curriculum independently.
What's Included
The Exploring World Geography Curriculum Package includes everything you need for a successful study. If you use the course as written, your student can earn credit in three high school subjects: World Geography, English, and Worldview. However, the course is flexible, so you can adjust the assignments as needed to fit your student's schedule and needs.
Two beautiful hardbound books feature narrative lessons with hundreds of colorful photographs and illustrations.
A full-color gazetteer features maps and details about the countries of the world plus supplemental readings.
Weekly project ideas include a writing assignment and two other creative assignments such as completing an art project, conducting research, or interviewing someone.
Literature reading and worldview assignments are part of the English and Worldview credits.
We suggest twelve literature titles that coordinate with the lessons and enhance your student's understanding of different parts of the world. We also offer optional review activities and tests.
Watch our intro video and keep reading to learn how the curriculum works, see sample lessons, and read what parents are saying.
Quick Overview
Exploring World Geography by Ray Notgrass is a one-year high school course that explores mankind's interaction with the world God made. The curriculum addresses two main questions: How has the physical world made a difference in what people have done, how they have lived, and how they live today? How have people made a difference in the physical world, and how are they making a difference in it today?
Exploring World Geography is designed to be easy to use for parent and student. Each of the 30 weekly units has an introduction that features a summary of the material covered, a list of lessons, Bible memory work, books required for that unit, and suggested writing assignments and hands-on projects. Each of the 150 daily lessons (five lessons per week) includes a list of specific assignments for that day. A focused student can direct his own study, and the parent can offer as much interaction as needed.
The World Geography credit involves reading the lessons and doing the assignments in the Gazetteer (and answering the questions in the optional Student Review if desired). The English credit involves completing several writing assignments, including one research paper; and reading the assigned literature. The Worldview credit involves examining religious and philosophical perspectives and completing worldview assignments that guide the student in building a Christian worldview. The unit projects offer a wide variety of activities that tie into all three subjects.
If you prefer a video overview, watch author Ray Notgrass explain how the components work together as he walks you through a sample unit from the curriculum.
What's In the Curriculum Package
The Exploring World Geography Curriculum Package includes these three books:
Exploring World Geography Part 1

This book has 75 lessons for the first semester. These lessons introduce the study of geography and explore the Middle East, Africa, and Europe.

Exploring World Geography Part 2

This book has 75 lessons for the second semester. These lessons explore Asia, Australia and Oceania, North America, and South America.

Exploring World Geography Gazetteer

This volume contains maps of the continents and regions discussed in the text, a section on each country of the world, and primary source material.
Optional Resources
We offer an optional Student Review Pack to help measure your student's understanding of the material. We also offer a literature package with twelve recommended titles.
Student Review Pack

The Student Review book offers daily review questions, map skills assignments, literature review questions, and literary analysis. The Quiz and Exam Book has a quiz for each unit and six geography, English, and worldview exams. The Guide for Parents and Answer Key includes all the answers needed for the course.

Literature Package

This package includes the twelve books assigned as part of the English credit. It features five nonfiction books and seven fiction books.
What the Lessons Are Like
Exploring World Geography is divided into 30 chronological units with five lessons each. Your student can complete the curriculum in one year by doing one lesson per day for 150 days during your school year.
Your student can read the daily lessons and follow the instructions independently. You as the parent can be involved as much or as little as you desire.
Reading one lesson will take about 20 minutes per day. At the end of each lesson is a list of assignments like this:
Depending primarily on how fast your student reads, he or she may need a total of two to three hours per day to complete the additional readings and work on the weekly project.
Watch author Ray Notgrass explain how the components of Exploring World Geography work together as he walks you through a sample unit from the curriculum.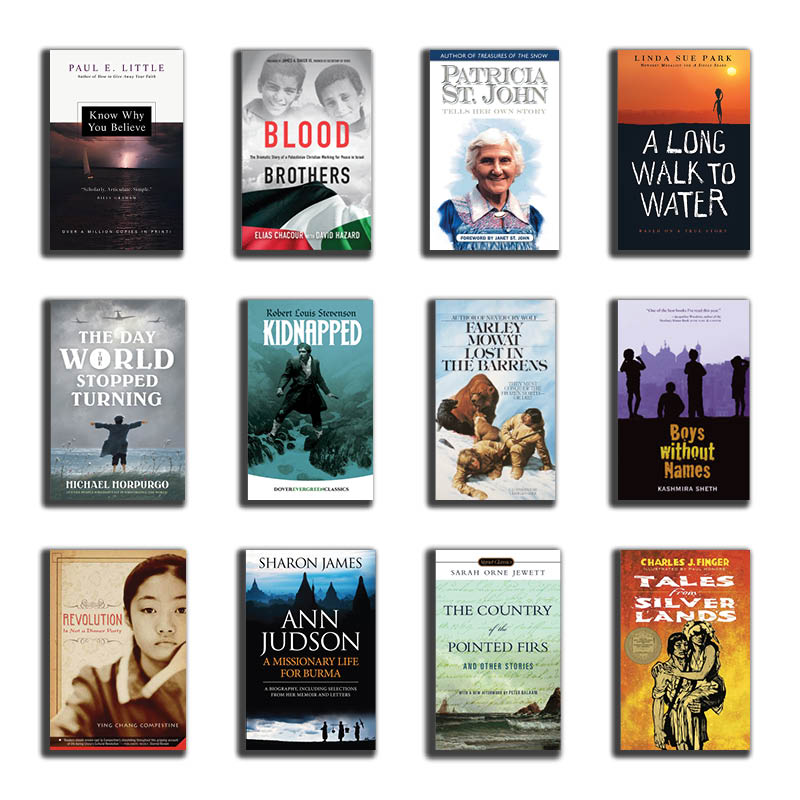 We recommend twelve works of literature that complement the lessons in Exploring World Geography. These books are not essential for understanding the lessons, but each one adds a valuable perspective on a different part of the world.
Reading the literature is part of earning the English credit. If your student has already read one of the assigned books, or you want to choose a different book for any reason, you can substitute a different book.
Part 1
Know Why You Believe by Paul Little (Units 1-2)
Blood Brothers by Elias Chacour with David Hazard (Units 3-4)
Patricia St. John Tells Her Own Story by Patricia St. John (Units 5-7)
A Long Walk to Water by Linda Sue Park (Unit 8)
The Day the World Stopped Turning by Michael Morpurgo (Units 10-11)
Kidnapped by Robert Louis Stevenson (Units 12-13)
Lost in the Barrens by Farley Mowat (Units 14-15)
Part 2
Boys Without Names by Kashmira Sheth (Units 16-17)
Revolution Is Not a Dinner Party by Ying Chang Compestine (Units 18-19)
Ann Judson: A Missionary Life for Burma by Sharon James (Units 20-21)
The Country of the Pointed Firs by Sarah Orne Jewett (Units 24-25)
Tales from Silver Lands by Charles Finger (Units 27-28)
Clear, Interesting, and Relevant
"[Exploring World Geography] makes human and physical geography clear, interesting, and relevant to study!" (Olivia P., Texas)
Biblical Worldview
"I love the biblical worldview angle, recommended literature, cultural geography, and rich illustrations." (Demetria E., Arizona)
Ray Notgrass is a follower of Jesus and a veteran homeschooling father. He met his wife, Charlene, at Middle Tennessee State University in the political science department. After graduating they were married in 1974. Ray went on to earn master's degrees in history and New Testament. Ray and Charlene are lifelong history lovers and began writing homeschool curriculum in 1999. They enjoy classic literature, traveling together, and spending time with their children and grandchildren.
Exploring World Geography Purchase Options
Are you ready to experience all that Exploring World Geography has to offer? Order today with confidence. If you are not satisfied for any reason, we offer a full money-back guarantee.
​Use the product links below to order online or call 1-800-211-8793. If you have any questions about choosing the right options for your child, please call, text, or email us.
Your Dynamic Snippet will be displayed here... This message is displayed because you did not provided both a filter and a template to use.